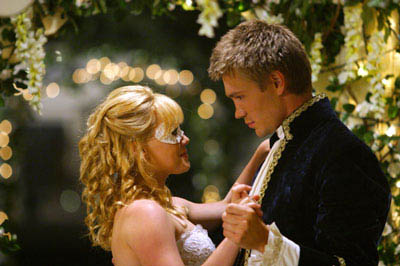 A Cinderella Story
(2004)
rated PG for mild elements
My Rating: 5 stars
Hilary Duff
Jennifer Coolidge
Chad Michael Murray
Dan Byrd
Regina King
Julie Gonzalo
Lin Shaye
I usually go for period films or something that has something to do with history but A Cinderella Story has got to be one of the best chick flicks of all time. When you get an actor like Hilary Duff to be the abused heroine, Jennifer Coolidge to be the evil stepmother, Chad Michael Murray to play the... Mmm. I won't give it away.
Enter the world of Sam (Hilary Duff) who lives in the attic of her stepmother's cottage that could look like a swiss chalet surrounded with the only green yard in the entire neighborhood, even though their part of CA is in the middle of a drought. Sam's father died when she was young and since he left no will, her stepmother got everything: the house, the car, the Diner. Oh yeah. The Diner. Sam's father owned the coolest diner in the valley. Employees and customers were friends and diet was a four lettered word. But when Sam's dad was killed during an earthquake, everything changed. For worse.
Fiona (Jennifer Coolidge) is a horror and her two stepdaughters are just as bad. Sam is their slave, whom they blame everything on, the odd man out in school... she basically doesn't fit in anywhere. Before he died, Sam and her dad had shared a dream together: for her to go to college at Princeton. But the more Sam works towards this dream, the more Fiona works against it.
The only thing that keeps Sam going is her mysterious friend whom she chats with every day. Neither of them know who the other is, only that Sam is a girl and her friend is a guy. The more they get to know each other, the more he talks about meeting. But Sam is scared. Can anything turn out happily in her life?


What I Liked:
1: How funny this movie is.
2: How well acted it is. Perfect actors for the characters. Jennifer Coolidge and Regina King are wonderful.
3: The sappiness of it. Not often do you get a story like this that is so clean.
4: How rich it is... it's vibrant and full of color and character.
5: Lessons on judging character and being courageous.
6: Some of the score was lovely!
What I Didn't Like:
1: The girls tend to dress seductively.
2: Some crude humor... I must admit, however, that it wasn't too bad and it always completed the feel of the scene.
3: The kissing scenes... ditto #2, though. ;-)
4: Part of the score was a little... well, not my style. ;-)